» Drew Estate Five Flying Pigs
Z okazji amerykańskiego Dnia Ojca, na rynek trafia nowa dostawa Five Flying Pigs od Drew Estate. Nie jest to duża partia - zaledwie 2500 pudeł po 12 sztuk trafia do sprzedaży. Z pewnością wzbudzą spore zainteresowanie. Cygara to 5 ciekawych blendów, pochodzących z nikaraguańskiej La Gran Fabrica Drew Estate.

Flying Pig to format Perfecto (3 15/16 x 60), który swój początek ma w roku 1895, zatem można uznać go za klasyczny. Ciekawy wygląd w jakiś sposób koresponduje z minionymi czasami i budzi przyjemne skojarzenia.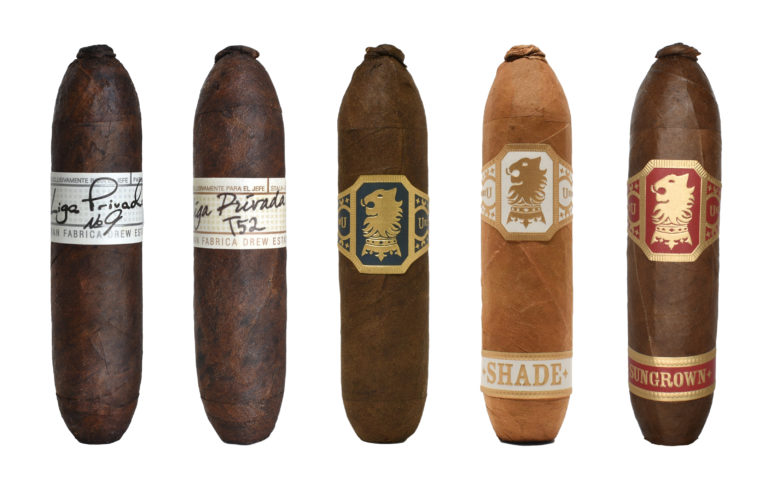 Profile poszczególnych blendów:

Liga Privada No. 9

Wrapper: Connecticut Broadleaf
Binder: Brazilian Mata Fina
Filler: Nikaragua, Honduras

Liga Privada T52

Wrapper: Connecticut River Valley Stalk Cut and Sun Cured Habano
Binder: Brazilian Mata Fina
Filler: Nikaragua, Honduras

Undercrown Maduro

Wrapper: Mexican San Andres Maduro
Binder: Connecticut River Valley Stalk Cut
Filler: Nikaragua, Brazylia - Mata Fina

Undercrown Shade

Wrapper: Ecuadorian Connecticut Shade wrapper
Binder: Sumatra
Filler: Nikaragua, Dominikana

Undercrown Sun Grown

Wrapper: Sumatra
Binder: Connecticut River Valley Stalk Cut
Filler: Nikaragua