MusicBox2
Aby rozpocząć odtwarzanie muzyki kliknij poniższy guzik:


Newsletter
Dla Użytkowników
Użytkowników Online
Gości Online: 1
Brak Użytkowników Online


Zarejestrowanych Użytkowników: 115

Najnowszy Użytkownik: ~Criss07
» Nowe formaty w marce My Father
My Father, wysoko oceniana marka, stworzona przez Jose "Pepin" Garcia i Jego ojca Jaime Garcia z El Rey de los Habanos Inc. zaprezentowała dwa nowe rozmiary.





» Nestor Miranda Special Selection 20th Anniversary
Jose "Pepin" Garcia z Tabacalera Garcia i Nestor Miranda z Miami Cigar & Company połączyli siły i stworzyli specjalną limitowaną edycję cygar Nestor Miranda Special Selection 20th Anniversary.

» Rocky Patel Decade - Emperor
Rocky Patel poszerzył wysoko ocenianą linię Decade o nowe cygaro, zwane Emperor(6x60). W odróżnieniu od pozostałych cygar linii Decade o kwadratowym przekroju tzw box-pressed, Emperor będzie klasycznym cygarem parejo.


» Altadis wprowadza na rynek Siglo Limited Reserve!
Altadis wprowadzi na rynek długo oczekiwane cygara premium, zwane Siglo Limited Reserve. Cygara ma charakteryzować bogaty smak i pełna moc...




» Villiger wraca na rynek
Cygara i cygaretki jednej z najlepiej rozpoznawalnych marek na świecie Villiger właśnie trafiły do oferty firmy Promotorzy Sp. z o.o.
Tradycja produkcji cygar sięga w firmie Villiger Söhne AG roku 1888...


» Pełnej mocy Winter Collection od Rocky Patel
Po zeszłorocznej prezentacji serii Autumn Collection, Rocky Patel przedstawił kolejną serię, zwaną Winter Collection...

» H. Upmann Magnum 46 w porcelanie.
Habanos S.A światowy dystrybutor cygar kubańskich wprowadza na rynek ciekawą pozycję. Są to cygara H. Upmann w ilości 30szt. zapakowane w porcelanowy słój...

» Nowe cygaro od Oliva!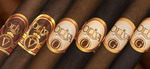 Oliva Cigar Co. producent najwyższej jakości cygar, postanawia wprowadzić na rynek nowe, łagodne cygaro. Oliva Connecticut Wrapper Reserve powinno być niedługo dostępne...


» Aurora 100 Ańos Preferido
La Aurora SA, najstarsza marka cygarowa na Dominikanie, postanowiła wydać jeszcze jedno cygaro ze swojej limitowanej mieszanki 100 Ańos. Cygaro zostało nazwane Aurora 100 Ańos Preferido...


» Podwyżki w Hondurasie
Prezydent Hondurasu Manuel Zelaya nakazał właścicielom fabryk cygar podniesienie płacy minimalnej o 50 procent.

"Nowe wynagrodzenia wchodzą w życie od 1 lutego" - powiedział Rocky Patel, właściciel honduraskich cygar premium Rocky Patel, produkowanych w fabryce El Paraiso niedaleko Danlí.

"Wzrost płac będzie miał wpływ na przemysł cygarowy" - powiedział Alan Rubin, właściciel cygar Alec Bradley.

Honduras jest drugim po Dominikanie dostawcą cygar premium na rynek amerykański.



» "Złoto dla Polaków!"
W czasach, kiedy polscy sportowcy nie rozpieszczają nas takimi nagłówkami w dziennikach oraz magazynach sportowych, przyszła pomoc ze strony jednego z polskich wiodących importerów ręcznie zwijanych cygar klasy Premium - firmy Promotorzy Sp. z o.o.

Importer, który do tej pory znany był głównie z cygar m.in. takich marek jak Ashton, God of Fire, Santa Damiana czy Flor de Copan, obecnie rozszerzył swoją ofertę o cygara Royal Jamaica Gold...

Ankieta
Brak zawartości dla tego panelu