MusicBox2
Aby rozpocząć odtwarzanie muzyki kliknij poniższy guzik:


Newsletter
Dla Użytkowników
Użytkowników Online
Gości Online: 1
Brak Użytkowników Online


Zarejestrowanych Użytkowników: 116

Najnowszy Użytkownik: ~Ryszard
» Villiger wraca na rynek
Cygara i cygaretki jednej z najlepiej rozpoznawalnych marek na świecie Villiger właśnie trafiły do oferty firmy Promotorzy Sp. z o.o.
Tradycja produkcji cygar sięga w firmie Villiger Söhne AG roku 1888...


» Pełnej mocy Winter Collection od Rocky Patel
Po zeszłorocznej prezentacji serii Autumn Collection, Rocky Patel przedstawił kolejną serię, zwaną Winter Collection...

» H. Upmann Magnum 46 w porcelanie.
Habanos S.A światowy dystrybutor cygar kubańskich wprowadza na rynek ciekawą pozycję. Są to cygara H. Upmann w ilości 30szt. zapakowane w porcelanowy słój...

» Nowe cygaro od Oliva!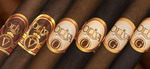 Oliva Cigar Co. producent najwyższej jakości cygar, postanawia wprowadzić na rynek nowe, łagodne cygaro. Oliva Connecticut Wrapper Reserve powinno być niedługo dostępne...


» Aurora 100 Ańos Preferido
La Aurora SA, najstarsza marka cygarowa na Dominikanie, postanowiła wydać jeszcze jedno cygaro ze swojej limitowanej mieszanki 100 Ańos. Cygaro zostało nazwane Aurora 100 Ańos Preferido...


» Podwyżki w Hondurasie
Prezydent Hondurasu Manuel Zelaya nakazał właścicielom fabryk cygar podniesienie płacy minimalnej o 50 procent.

"Nowe wynagrodzenia wchodzą w życie od 1 lutego" - powiedział Rocky Patel, właściciel honduraskich cygar premium Rocky Patel, produkowanych w fabryce El Paraiso niedaleko Danlí.

"Wzrost płac będzie miał wpływ na przemysł cygarowy" - powiedział Alan Rubin, właściciel cygar Alec Bradley.

Honduras jest drugim po Dominikanie dostawcą cygar premium na rynek amerykański.



» "Złoto dla Polaków!"
W czasach, kiedy polscy sportowcy nie rozpieszczają nas takimi nagłówkami w dziennikach oraz magazynach sportowych, przyszła pomoc ze strony jednego z polskich wiodących importerów ręcznie zwijanych cygar klasy Premium - firmy Promotorzy Sp. z o.o.

Importer, który do tej pory znany był głównie z cygar m.in. takich marek jak Ashton, God of Fire, Santa Damiana czy Flor de Copan, obecnie rozszerzył swoją ofertę o cygara Royal Jamaica Gold...

» Villiger 1888
Szwajcarska firma Villiger & Sons, znana z produkcji małych, maszynowych cygar, wypuściła właśnie na rynek cygara Villiger 1888, pierwsze ręcznie wykonane cygaro noszące nazwę firmy Villiger.

» Tatuaje wprowadza "ekonomiczne" cygara
Bardziej dbający o budżet fani cygar Tatuaje mogą oczekiwać nowej linii "ekonomicznych" cygar: Ambos Mundos, long filler w cenie, która idealnie pasuje do kryzysu ekonomicznego. Mimo iż może się wydawać, że cygaro znalazło idealny moment na debiut, Pete Johnsos, właściciel Tatuaje, zaprzecza, jakoby Ambos Mundos miał jakikolwiek związek z obecną sytuacją ekonomiczną.


» Humidor z kamienia?
Poszukujesz eleganckiego i unikalnego humidora, który z pewnością wzbudzi zainteresowanie, gdziekolwiek go wystawisz? Rzuć okiem na kamienny humidor D'Aprile Humidors.
Teksańska firma, założona w styczniu, D'Aprile Humidors, uważa się za pierwszą i jedyną firmę produkującą humidory wykonane z kamienia.

» Tempus Sampler od Alec Bradley
Alec Bradley wypuścił pięciopak samplerowy z linii Tempus, w którego skład wchodzi pięć formatów właśnie z linii Tempus:
- Genesis (5 1/2 inches by 42 ring )
- Terra Novo (5 inches by 50 ring)
- Imperator (6 1/8 inches by 52 ring)
- Creo ( lancero 7 1/2 inches by 42 ring)
i Centuria (7 inches by 49 ring) oceniana przez Cigar Aficionado i Cigar Insider na 94pkt...


Ankieta
Brak zawartości dla tego panelu