MusicBox2
Aby rozpocząć odtwarzanie muzyki kliknij poniższy guzik:


Newsletter
Dla Użytkowników
Użytkowników Online
Gości Online: 1
Brak Użytkowników Online


Zarejestrowanych Użytkowników: 116

Najnowszy Użytkownik: ~Ryszard
» Kolejny odcinek Robustories by Zielu
W dziale Galeria można zobaczyć nowy odcinek komiksu. Bohaterami są dwaj przyjaciele, miłośnicy cygar - Paco i Reyes.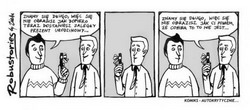 Zapraszamy


» Kilka nowości na polskim rynku...
W sklepie Cigarro.pl (partnera forum www.cigaraficionado.com.pl), pojawiło się kilka nowości, które powinny zainteresować wszystkich aficionados...

» Nowości z HABANOS S.A. na 2008r.
Habanos S.A., ogólnoświatowy dystrybutor kubańskich cygar, zaprezentuje kilka nowych cygar na bieżący rok. Dodane zostaną nowe rozmiary w istniejących markach, wraz z nowymi Edición Limitadas, wyjątkowymi humidorami i cygarami produkowanymi dla sklepów z różnych krajów.


Tegoroczny Habanos Festival, rozpocznie się 25 lutego. Festiwal służy jako pokaz przedpremierowy kubańskich propozycji roku. Habanos stopniowo, przez cały rok wypuszcza cygara na rynek, czasami ukazując cygara dopiero pod koniec roku.

Na festiwalu zostaną zaprezentowane dwa nowe rodzaje cygar, które zostana wprowadzone do sprzedaży późną wiosną albo wczesnym latem. Pierwszy z nich, to Hoyo de Monterrey Epicure Especial, robusto 5 1/2 x 50, który był wcześniej wypuszczany jako Edición Limitada w 2004. Drugi, to 6 1/2 x 50 H. Upmann Magnum 50 (dawny Edición Limitada (pierwszy raz zaprezentowany w 2005)). Obydwa cygara będą dodane do regularnej sprzedaży i będą oferowane w pudłach po 10, 25 i 50 sztuk.
Pojawi się także Partagas Salamones zawierający pięć cygar wielkości 7 1/4 x 57 , które będą sprzedawane na Kubie, w eksluzywnym sklepie Casa del Habano. Habanos wypuści również trzy 2008 Edición Limitadas i kilka nowych tub.


» TE-AMO Platinum
W sklepie CiT (

www.cygara-tyton.pl

) pojawiło się cygaro Te-Amo Platinum, pakowane w tzw. humidibag, gwarantujący świeżość cygara bez konieczności przechowywania cygara w humidorze. Cygaro Te-Amo Platinum jest już przycięte przez producenta.To na pewno dobra wiadomość, dla aficionados gustujący w tej marce, którzy teraz będą mogli wszędzie zabrać swoje ulubione cygaro, nie martwiąc się o utratę jakości.

» Robustories by Zielu
Utworzyliśmy nowy dział - Galeria! a w nim...

...komiks, rysowany przez Michała Zielińskiego, pseudonim Zielu(forumowy nick - Gringo).

Komiks opisuje przygody dwóch przyjaciół Paco i Reyes'a, miłośników cygar.
Pierwszy komiks można już zobaczyć, w dziale Galeria.

Chcielibyśmy aby użytkownicy forum CigarAficionado i osoby przeglądające portal, wzięły udział w tworzeniu scenariuszy do komiksu. Zapraszamy zatem na forum CigarAficionado, do odpowiedniego tematu i czekamy na Wasze propozycje!



Zapraszamy!







» I Forumowe Ogólnopolskie Spotkanie CigarAficionado!
W dniu 24.11.2007 w Zabrzu, odbyło się I Forumowe Ogólnopolskie Spotkanie CigarAficionado!
czyli spotkanie użytkowników forum www.cigaraficionado.com.pl


» Alex Wong prawdopodobnie jest najwiekszym...
...kolekcjonerem cygar na świecie, a wywiad z nim ukazał się na stronie magazynu Cigar Aficionado. Alex - 30to letni biznesmen z Hong Kongu, razem z ojcem George'em kupują cygara od blisko dekady i zbliżają się do kolekcji o wielkości 5000 pudełek... Więcej przeczytacie na stronie magazynu.
Link


» Padrón 80th Anniversary w sprzedaży!

I stało się! Szybciej niż przypuszczano. W poniedziałek 19 listopada do sklepów w USA wysłane zostały pierwsze partie najnowszego produktu marki Padron. Cygara będą na prawdę ciężko dostępne, ponieważ każdy sklep dostanie tylko 1-2 pudełka przy każdym zamówieniu, a w pudełku znajdzie tylko 8 sztuk tego smakołyku.



» Cigarmony - Piątek 23 listopada - INSANE prices
Właściciel sklepu z akcesoriami cygarowymi Cigarmony.com zapowiedział na najbliższy piątek niewiarygodne ceny na najbardziej popularne przedmioty! Tego dnia w lewym menu na stronie sklepu pojawi się specjalny link, który przeniesie Was do świata tanich zakupów ;)

Ilości przedmiotów mają być ograniczone, a zamówienia realizowane w systemie "kto pierwszy ten lepszy"


» Padrón 80th Anniversary coraz bliżej...

Na zeszłorocznej imprezie 'Big Smoke', która odbyła się w Las Vegas, Jorge Padrón zaprezentował nowe cygaro stworzone dla uczczenia osiemdziesiątych urodzin swojego ojca i założyciela fabryki José Orlando Padrón - Padrón 1926 Serie 80th Anniversary Perfecto.


Jest to pierwsze cygaro o kształcie figurado które wyszło spod rąk tamtejszych torcedores. Jego wymiary to 6 3/4 na 54, a stworzone jest w 100% z Nikaraguańskiego tytoniu leżakującego 5 lat. Największymi szczęśliwcami byli jednak uczestnicy 'Big Smoke 2006' ponieważ wtedy to pierwsze 500 sztuk zostało rozdane, a wszystkie opinie były oczywiście bardzo pozytywne.

Niestety do tej pory cygara nie trafiły do regularnej sprzedaży (choć mają trafić na pewno), ale pojawiły się plotki że mogą być do kupienia jeszcze przed końcem tego roku... Niestety przewidywana cena MSRP to okolice 30$

Link dla tych, którzy już teraz chcą nacieszyć oczy.

"This cigar is consistent with our philosophy. Quality, not quantity."
Jorge Padrón


Ankieta
Brak zawartości dla tego panelu