MusicBox2
Aby rozpocząć odtwarzanie muzyki kliknij poniższy guzik:


Newsletter
Dla Użytkowników
Użytkowników Online
Gości Online: 1
Brak Użytkowników Online


Zarejestrowanych Użytkowników: 121

Najnowszy Użytkownik: ~watchesbiz
» Premier i Classic - nowe cygara od Reyes Family Cigars
Reyes Family Cigars, producenci takich marek jak Puros Indios i Cuba Aliados, ogłosili niedawno wprowadzenie na rynek dwóch nowych cygar premium - Premier i Classic...


» Nowe cygaro od Espinosa y Ortega !
Panowie Espinosa i Ortega z EO Brands,( podobnie jak CAO opisywane w poprzednim newsie), zaprezentują nowe cygaro na IPCPR Trade Show w Las Vegas. Cygaro będzie nosiło nazwę Cubao...














więcej w dalszej części newsa...


» Zapowiedź CAO Lx2 !
CAO, jeden z czołowych światowych producentów cygar, ogłosił, że zaprezentuje swój nowy produkt Lx2 CAO na IPCPR( International Premium Cigar and Pipe Retailers Association convention and trade show) które odbędzie się 13-17 lipca w Las Vegas...

» Nowa marka z Ashton Cigars!
Po stworzeniu marki San Cristobal, zespół Ashton Cigars jeszcze raz nawiązuje współpracę ze sławnym Pepinem Garcia, a owocem ich pracy jest nowa marka Benchmade...
» II FOSCA !!
17 maja 2008 na Kaszubach odbyło się II FOSCA (Forumowe Ogólnopolskie Spotkanie Cigar Aficionado)



» Kolejny odcinek Robustories by Zielu
W dziale Galeria można zobaczyć nowy odcinek komiksu. Bohaterami są dwaj przyjaciele, miłośnicy cygar - Paco i Reyes.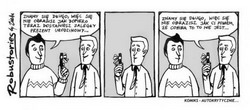 Zapraszamy


» Kilka nowości na polskim rynku...
W sklepie Cigarro.pl (partnera forum www.cigaraficionado.com.pl), pojawiło się kilka nowości, które powinny zainteresować wszystkich aficionados...

» Nowości z HABANOS S.A. na 2008r.
Habanos S.A., ogólnoświatowy dystrybutor kubańskich cygar, zaprezentuje kilka nowych cygar na bieżący rok. Dodane zostaną nowe rozmiary w istniejących markach, wraz z nowymi Edición Limitadas, wyjątkowymi humidorami i cygarami produkowanymi dla sklepów z różnych krajów.


Tegoroczny Habanos Festival, rozpocznie się 25 lutego. Festiwal służy jako pokaz przedpremierowy kubańskich propozycji roku. Habanos stopniowo, przez cały rok wypuszcza cygara na rynek, czasami ukazując cygara dopiero pod koniec roku.

Na festiwalu zostaną zaprezentowane dwa nowe rodzaje cygar, które zostana wprowadzone do sprzedaży późną wiosną albo wczesnym latem. Pierwszy z nich, to Hoyo de Monterrey Epicure Especial, robusto 5 1/2 x 50, który był wcześniej wypuszczany jako Edición Limitada w 2004. Drugi, to 6 1/2 x 50 H. Upmann Magnum 50 (dawny Edición Limitada (pierwszy raz zaprezentowany w 2005)). Obydwa cygara będą dodane do regularnej sprzedaży i będą oferowane w pudłach po 10, 25 i 50 sztuk.
Pojawi się także Partagas Salamones zawierający pięć cygar wielkości 7 1/4 x 57 , które będą sprzedawane na Kubie, w eksluzywnym sklepie Casa del Habano. Habanos wypuści również trzy 2008 Edición Limitadas i kilka nowych tub.


» TE-AMO Platinum
W sklepie CiT (

www.cygara-tyton.pl

) pojawiło się cygaro Te-Amo Platinum, pakowane w tzw. humidibag, gwarantujący świeżość cygara bez konieczności przechowywania cygara w humidorze. Cygaro Te-Amo Platinum jest już przycięte przez producenta.To na pewno dobra wiadomość, dla aficionados gustujący w tej marce, którzy teraz będą mogli wszędzie zabrać swoje ulubione cygaro, nie martwiąc się o utratę jakości.

» Robustories by Zielu
Utworzyliśmy nowy dział - Galeria! a w nim...

...komiks, rysowany przez Michała Zielińskiego, pseudonim Zielu(forumowy nick - Gringo).

Komiks opisuje przygody dwóch przyjaciół Paco i Reyes'a, miłośników cygar.
Pierwszy komiks można już zobaczyć, w dziale Galeria.

Chcielibyśmy aby użytkownicy forum CigarAficionado i osoby przeglądające portal, wzięły udział w tworzeniu scenariuszy do komiksu. Zapraszamy zatem na forum CigarAficionado, do odpowiedniego tematu i czekamy na Wasze propozycje!



Zapraszamy!







» I Forumowe Ogólnopolskie Spotkanie CigarAficionado!
W dniu 24.11.2007 w Zabrzu, odbyło się I Forumowe Ogólnopolskie Spotkanie CigarAficionado!
czyli spotkanie użytkowników forum www.cigaraficionado.com.pl


Ankieta
Brak zawartości dla tego panelu