MusicBox2
Aby rozpocząć odtwarzanie muzyki kliknij poniższy guzik:


Newsletter
Dla Użytkowników
Użytkowników Online
Gości Online: 1
Brak Użytkowników Online


Zarejestrowanych Użytkowników: 129

Najnowszy Użytkownik: ~Michal1988
» Opusy coraz trudniej dostępne...
Mamy już lipiec, a sprzedawcy otrzymali dotychczas tylko jeden transport z cygarami Fuente Fuente OpusX...






więcej w dalszej części newsa...

» Manuel Quesada zaprezentuje dwie nowe marki!
Manuel Quesada, producent cygar Fonseca i Cubita, szykuje się do wystawy na IPCPR Trade Show. Quesada utworzył dwie marki cygar, jedna to marka uzupełniająca Fonseca, a druga, to jego pierwsza nikaraguańska marka...




» EUROTAB w Warszawie.
W dniach 24-26 czerwca 2008 w hali EXPO XXI w Warszawie, odbyły się EUROTAB Miedzynarodowe Targi Wyrobów Tytoniowych...

» Nowe cygaro z La Aurora !
Kolejny news na temat nowego cygara!



Najstarsza dominikańska marka, La Aurora S.A, położona w Santiago de los Caballeros, w której cygara produkowane są od 1903r., wprowadza na rynek nowe cygaro - Aurora Preferido Lancero.



» Premier i Classic - nowe cygara od Reyes Family Cigars
Reyes Family Cigars, producenci takich marek jak Puros Indios i Cuba Aliados, ogłosili niedawno wprowadzenie na rynek dwóch nowych cygar premium - Premier i Classic...


» Nowe cygaro od Espinosa y Ortega !
Panowie Espinosa i Ortega z EO Brands,( podobnie jak CAO opisywane w poprzednim newsie), zaprezentują nowe cygaro na IPCPR Trade Show w Las Vegas. Cygaro będzie nosiło nazwę Cubao...














więcej w dalszej części newsa...


» Zapowiedź CAO Lx2 !
CAO, jeden z czołowych światowych producentów cygar, ogłosił, że zaprezentuje swój nowy produkt Lx2 CAO na IPCPR( International Premium Cigar and Pipe Retailers Association convention and trade show) które odbędzie się 13-17 lipca w Las Vegas...

» Nowa marka z Ashton Cigars!
Po stworzeniu marki San Cristobal, zespół Ashton Cigars jeszcze raz nawiązuje współpracę ze sławnym Pepinem Garcia, a owocem ich pracy jest nowa marka Benchmade...
» II FOSCA !!
17 maja 2008 na Kaszubach odbyło się II FOSCA (Forumowe Ogólnopolskie Spotkanie Cigar Aficionado)



» Kolejny odcinek Robustories by Zielu
W dziale Galeria można zobaczyć nowy odcinek komiksu. Bohaterami są dwaj przyjaciele, miłośnicy cygar - Paco i Reyes.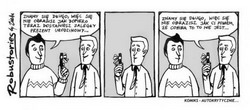 Zapraszamy


» Kilka nowości na polskim rynku...
W sklepie Cigarro.pl (partnera forum www.cigaraficionado.com.pl), pojawiło się kilka nowości, które powinny zainteresować wszystkich aficionados...

Ankieta
Brak zawartości dla tego panelu